Article by Sarah Benowich
A. Introduction
Kim Kardashian, who is herself trying to become an attorney, is no stranger to media attention – or legal battles. Just this week, another trademark battle began when "Beauty Concepts[, ] a successful Black- and woman-owned business that sells skin care products and provides services out of its retail location in Brooklyn, New York under the SKKN+ trademark" sued Kardashian and her related entities and partners (collectively, "Kardashian") for trademark infringement based on her SKKN BY KIM trademark applications covering a new line of beauty products.[1]
Plaintiff Beauty Concepts is attempting to gain control of the narrative against Kardashian, a master of media, by characterizing this as celebrity bullying: "The suggestion that a small, entrepreneurial Black- and woman-owned business is not entitled to its prior rights in a nearly identical mark that is later pursued by a celebrity's large, majority-owned company raises serious questions about, among other things, the motives and legitimacy of the Kardashian/Coty Defendants' actions and arguments."[2]
In response, Kardashian and her attorney Michael Rhodes have stated[3]:
We think the case is less about the law of trademarks and more about trying to leverage a settlement by threatening to harm Ms. Kardashian's name and reputation, [and that while they] applaud Ms. Lunsford for being a small business owner and following her dreams. [] that doesn't give her the right to wrongfully claim that we've done something wrong.
After several months of pending applications and cancellation proceedings before the Trademark Trial and Appeal Board ("TTAB"), their dispute will go to federal court in the United States District Court for the Eastern District of New York, before Judge LaShann DeArcy Hall and Magistrate Judge Marcia M. Henry.
B. Factual Background & Procedural Posture
Kardashian as a celebrity certainly needs no introduction.  As to this dispute, Kardashian also has several beauty and retail brands, including SKKN BY KIM, one of her newer skincare brands.
Beauty Concepts alleges it has been using the mark SKNN+ continuously in connection with skincare products since at least August 2018 and applied to register SKNN+ design and word marks starting in March 2021.[4]  Kardashian applied to register SKKN marks starting in July 2021.[5]  Kardashian expressly abandoned at least two of those applications, for classes 10 and 44.[6] "The USPTO has [since] issued Office Actions on at least five (5) of the Kardashian [] applications for SKKN BY KIM citing a likelihood of confusion with Beauty Concepts' prior-filed SKKN+ application."[7]
In or about July 2021, Beauty Concepts found out that Kardashian was planning "to launch a new skin-care line under the brand SKNN and/or SKKN BY KIM" and attempted to ask Kardashian to abandon those plans, arguing that "due to Ms. Kardashian's prominence, Beauty Concepts was also likely to be quickly overshadowed by the Kardashian/Coty Defendants' brand and would likely experience significant and irreparable brand damage as a result of this confusion."[8]  Kardashian allegedly rebuffed those efforts and moved forward with their own applications for SKKN BY KIM.  Beauty Concepts opposed those applications, and those consolidated proceedings have now been stayed.[9]
During the stay of proceedings, Kardashian "launched [the] new skin care line under the trademark SKKN BY KIM".[10]
The SKKN BY KIM website[11] prominently features rolling photos of Kardashian and promises to usher in "a new era of skincare" based on minimalist packaging, and vegan and cruelty-free formulas.  The "basics" 3-piece bundle costs between $147 and $173.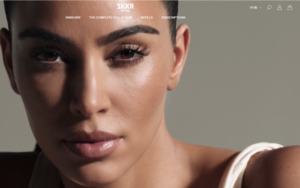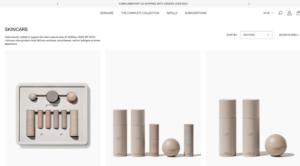 SKKN+[12] primarily features salon facial services at its appointment-only salon in Brooklyn, New York which range in price from $125 to $150.  A "shop" link features products from IsClinical, including many products which are not available online but only for in-store purchase.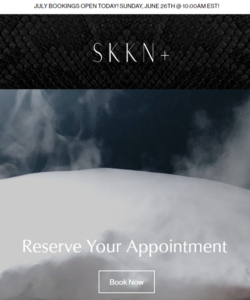 Beauty Counter focuses on the following factors to show a likelihood of confusion:
Kardashian emphasizes the SKKN portion of the mark, rather than the words BY KIM[13]
Kardashian's products claim to be a "home alternative to professional facials and for use by professional estheticians"[14]
Overall similarity of the marks and goods and services
"numerous users on social media have mistakenly tagged Beauty Concepts' @skknplus social media accounts when referencing the Kardashian [] products."[15]
Beauty Counter brings claims for trademark infringement and reverse confusion (15 U.S.C. § 1125(a)); state trademark infringement law (N.Y. G.B.L. § 360-k-m); unlawful deceptive acts and business practices in (N.Y. G.B.L. § 349-50); civil conspiracy and unjust enrichment (New York common law).
C. Practical Implications
While the case has only just been filed, it will be an interesting case to watch should it progress.  First, this case shows the challenges for smaller companies in protecting their brands, particularly when comparing regional and national markets and against celebrities and celebrity brands.  Second, Kardashian has signaled they will raise questions as to the similarity of the goods and services and regional reach – at first glance, a local facial salon may not have the reach to exclude Kardashian from a nationwide skincare company.  Third, the complaint does not seek preliminary injunctive relief.  Of course, seeking preliminary injunctions and temporary restraining orders is always an uphill battle, this case shows the challenges of post hoc efforts to effectively put the cat back in the bag: SKKNS BY KIM has already launched and attracted significant attention and consumers, which may end up driving
[1] Beauty Concepts LLC d/b/a SKNN PLUS LLC and SKNN+ v. Kim Kardashian West, et al., 1:22-cv-03797-LDH-MMH (E.D.N.Y.)  All citations herein are to the complaint, Dkt. No. 1, filed on June 28, 2022 (the "Complaint").
[2] Complaint at ¶7.
[3] "Kim Kardashian Responds to SKKN Trademark Lawsuit After Skincare Brand Launch" by Corinne Heller (E Online, Jun. 29, 2022) available at https://www.eonline.com/news/1336220/kim-kardashian-responds-to-skkn-trademark-lawsuit-after-skincare-brand-launch.
[4] Complaint at ¶1.
[5] Id. at ¶3.
[6] Id. at ¶68.
[7] Complaint at ¶71.
[8] Id. at ¶3.
[9] Id. at ¶8.
[10] Id. at ¶9.
[11] SKKN BY KIM screenshots taken from http://tinyurl.com/2dz8ufhb.
[12] Screenshots taken from www.skknplus.com.
[13] Complaint at ¶¶10-11.
[14] Id. at ¶12.
[15] Id. at ¶91.