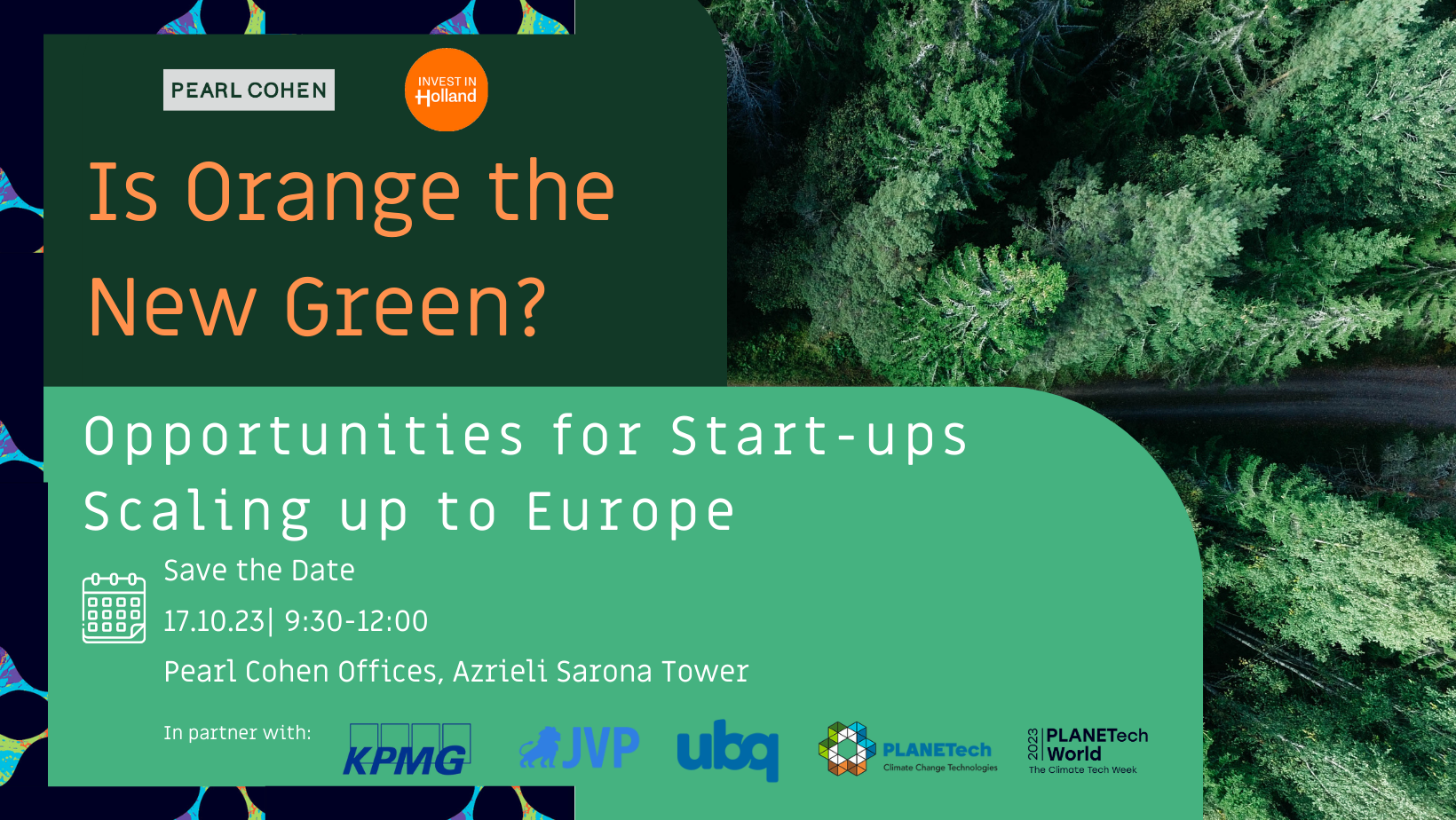 Europe's journey to becoming the world's first climate-neutral continent by 2050 is gaining momentum, and guess what's leading the change?  Climate tech – the fastest-growing sector across the continent!
Want to tap into the dynamic ecosystem of climate tech in Europe?
Join us, Pearl Cohen, the Netherlands Foreign Investment Agency, and PLANETech, as we roll out the orange carpet and invite you for an enlightening discussion on how you can successfully scale up your climate tech start-up in Europe.
Our expert panel will provide practical need-to-know, market trends & insights, and firsthand experiences that can simplify and optimize your growth journey.
We will showcase the Dutch ecosystem as a prime example of European expansion towards a sustainable and greener future.
Tuesday | October 17, 2023 | 9:30-12:00 | Pearl Cohen Offices, Azrieli Sarona Tower | 53rd Floor
This event is proud to be part of PLANETech World 2023 – The Climate Tech Week, the formative climate tech event that brings together thousands of people dedicated to driving collaboration, promoting innovative solutions, and collectively strengthening the future of climate tech. To find out more about PLANETech World 2023, click here https://www.planetechworld.org/
The contact details and personal information you provide for the purpose of registering for the event will be used by Pearl Cohen for administration purposes, and management of the event, and Pearl Cohen will be entitled to use your details to send you messages about future events and for marketing messages. You have no legal obligation to provide personal information to Pearl Cohen and its provision depends on your will and consent. However, without providing the requested information you will not be able to complete the registration for the event. Pearl Cohen organizes the event in cooperation with NFIA (Netherlands Foreign Investment Agency). Your registration for the event also indicates your consent that Pearl Cohen will transfer your details and the personal information you provided to NFIA, which will be entitled to save this information independently in its databases and use it for administration purposes, and management of the event in addition to the information processed by Pearl Cohen. You also consent that NFIA will be able to send you marketing messages.